What does your skin feel like? Is it dry? Oily? Smooth? Scaly? Taking care of your skin can be hugely beneficial to the success of your electrolysis treatments and your quality of life in general. In particular, keeping your skin hydrated is key. When your body gets enough water, your skin is happier! In this article, we will discuss the wonderful affect that hydrating your body has on your skin, as well as techniques to keep it hydrated.
When your skin has enough moisture, the hair follicles slide out more easily. Sometimes clients come in for electrolysis treatments while they are dehydrated and it makes a noticeable difference in the quality of their treatment. If they have not consumed enough water, their hair follicles might break during tweezing or be harder to pull out. When clients are fully hydrated, it makes for better tweezing of the hair follicles and smoother skin overall.
There are various techniques to hydrating your skin. Drinking plenty of water is an easy and fast way to keep hydrated. Aim to consume two to three liters a day. Water benefits not only your skin, but helps your organs function better as well. Be sure to drink water the day before and the day of your appointment. Refraining from caffeine the day of treatment is also advantageous to the skin.
Getting regular facials is also great for the skin. Facials help cleanse the skin of chemicals from pollution, grease, dirt and other impurities. According to Livestrong, "Facial treatments help to improve and restore circulation to facial skin layers, increasing the flow of oxygen-enriched blood to skin cells. This rush of blood to the skin gives your skin a healthy glow and plumps skin cells with vital nutrients and water, which reduce the appearance of wrinkled and dry skin." Steam from facials helps open the pores and supply the skin with much needed moisture.
Exfoliation prior to electrolysis is very important because it removes debris (such as dead skin or makeup) near the hair follicle and helps release any embedded hairs. You can use a facial scrub, such as sea salt scrub, or just a plain warm washcloth. Whatever your method, always be gentle when exfoliating any part of the body, especially the face and other sensitive areas. Be sure not to rub the skin too hard or it can create redness, a rash or irritation.
Avoid super hot showers and showering too often. Hot water might feel good in the moment, but it will remove the natural oils and healthy bacteria from your skin, not to mention, completely drying it out! Showering too often can irritate the skin and create an environment more susceptible to infection.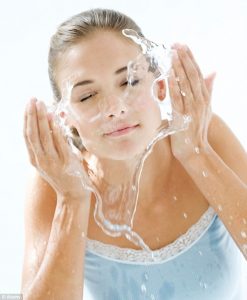 Finally, make sure to hydrate your skin is through heat and steam. This could mean engaging in hot yoga workout, or spending time relaxing in a steam room or sauna. "Skin cells need water to live, so steam can be very beneficial for keeping surface layers feeling moist and looking healthy," celebrity aesthetician Renée Rouleau explained. Make sure exposure to extreme heat is only done in moderation. According to dermatologist, Dr Engelman "Just 15 minutes in the steam room…stimulates circulation, increases perspiration, and eliminates toxins." Lather up with lotion after spending time in steam to lock the moisture in.
To recap:
Drink two to three liters of water a day
Turn down the temperature in the shower
Shower every two to three days
Exfoliate
Use a humidifier
At Limoges Beauty NYC, we are huge fans of the Action de Gala brand. Inspired by nature, Action de Gala offers a unique blend of formulas from plant extracts to soften all kinds of skin, even the most sensitive. For both men and women, this brand offers immediate results as well as long-lasting benefits. We offer various products for sale at our offices. If you want to indulge your skin in a gentle nourishing cream, this is the brand for you.
Hydrate and be kind to your body. If you want to learn more skincare tips or start electrolysis treatments, schedule your free consultation today with Limoges Beauty NYC.