Hello Everyone,
Choosing the Right Probe for Electrolysis for Permanent Hair Removal
Today, I want to share how the probe an electrologist uses can make a big difference. The most important rule to using the proper probe is to make sure the electrolysis probe matches the diameter of the hair being treated. The proper diameter probe allows for the probe to destroy the derma papilla most effectively.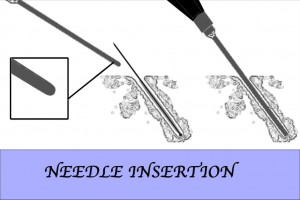 It is also important to be informed on the type of probes an electrologist is using, as there are several different kinds. At Limoges Electrolysis in New York City, I use mostly insulated and gold probes by Ballet. Ballet is the industry leader world wide in sterile disposable electrolysis probes and is considered the best. To learn more about ballet probes you can visit http://www.balletneedles.com. Below is an explanation of why, and how, insulated probes benefit the client being treated.
Insulated Probes for Hair Removal by Electrolysis
"Insulated probes are becoming more popular and they are highly recommended by most electrologists today. These probes are made of stainless steel and are coated with medical grade Teflon, with only the tip remaining uncovered. When using an insulated probe, the energy emitted with each impulse converges at the tip of the probe and the base of the follicle, where the hair growth cells are located. This focusing of the energy, exactly where it's needed, increases the effectiveness of each insertion, thereby allowing your power setting to be slightly reduced. Reducing both the intensity and duration of the current will increase the client's comfort but it is also important to understand that the insulation provides another level of protection. It protects the surface of the clients skin from cutaneous reactions that can occur when current touches the skin surface. When you add the lower intensity and duration to the additional protection for the surface of the skin, you have a win-win."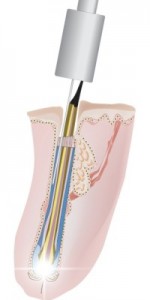 You can see here that there is only current coming out of the tip of the probe, destroying the dermal papilla. The rest of the probe is coated and protecting the skin from the heat of the current.
Gold Probes for Electrolysis Hair Removal
In addition to insulated probes, Limoges Electrolysis also uses gold probes. They are considered the highest quality and are great for sensitive skin. They also are wonderful for those that have sensitivities or allergies to nickel or stainless steel.
I hope that you are now more informed the importance of electrolysis probes and how they make a difference in your treatment.
Please book your free 15 minute consultation with Limoges Electrolysis today!