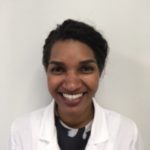 How did you decide to get into electrolysis work?
I first went to Emily for electrolysis and her treatments made such a big difference in my life. I was inspired to join her mission and help others in the way that she helped me.
What kind of training did you have and where?
I graduated from the Berkowits School after completing 320 practical hours. I have a background in hospital administration and construction.
How long have you been an electrologist and what are some of your favorite aspects of your job?
I have been an electrologist for almost a year. Some of my favorite aspects are interacting with the clients, sharing my knowledge of hair, growth and removal. Above all, I love being able to make our clients feel better about their appearance and boost their confidence. 
What are some of the challenging aspects of your job?
One of the biggest challenges of electrolysis is mastering the insertion technique which if done incorrectly can cause many problems such as ingrown hairs and pitting of the skin.  My previous work in construction helped me to master the insertion techniques quickly. I am delicate with my hands, detail-oriented and focused.
What are some common misconceptions people have about electrolysis?
Some common misconceptions about electrolysis are that it is an old technique that no one uses, that it is really painful and that it does not work. New technology we use at Limoges Beauty and methods provide an effective permanent treatment. Not to mention, these treatments are safer and more gentle than ever!
What qualities do you recommend people look for in an electrologist?
Some qualities that I would recommend people look for in an electrologist are: honest, hardworking, personable, knowledgeable in electrolysis and hair growth and removal. They must also have good eyesight and a steady hand. Everyone at this practice is warm, kind and accepting of all types of clients.
What is the environment like at Limoges Beauty?
The environment at Limoges Beauty is warm and inviting. We cater to each of our clients and make sure that they leave happy and satisfied. We use modern machines that are medical grade and industry standard. We clean our office daily to maintain a hygienic, safe and comfortable space.
What makes Limoges Beauty different from other practices?
What makes us different at Limoges Beauty is each member of the team has received electrolysis and is passionate about it. We receive private training and advanced training at Dectro International. We strive to be on the cutting edge of the latest happenings in the industry so that we can offer our clients the very best.
What makes clients choose electrolysis over other hair removal treatments?
They choose it because it is the only method approved by the FDA to permanently get rid of hair. Unlike every single other hair removal method, once a hair follicle is deactivated, the hair will never grow back. For a sleek, smooth, hair-free look, electrolysis is the best solution.
How has electrolysis been life changing for you or your clients? 
Electrolysis has been life changing for me because it helped me find my confidence again as well as my new career. I am so thankful to have found my passion and to help others.