When searching for an electrologist, it is important to know the conditions they work under for your own safety. In the State of New York, there are no set regulations for which electrologists must abide by when it comes to sanitizing and sterilizing their tools and equipment. I was originally shocked when I learned this information. Today with so many safety standards in the health, beauty, and medical industry, it is hard to believe that in the State of New York, electrolysis is not regulated in the same fashion. I will discuss the type of information you should ask an electrologist so you can make best decision for your own health and safety.
Electrolysis Probes-Needles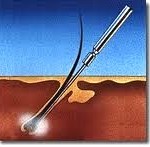 When having an electrolysis treatment, a brand new sterilized probe should be used only once for that individual. However, in the state of New York an electrologist can use the same probe on as many people as they desire. You would never go to get blood drawn and expect they use the same needle to draw blood on other people! Even though the probe in electrolysis is inserted into a hair follicle and not a vein, the probe is still coming into contact with the dermal papilla, the blood supply for the  hair. Also, the probe is coming into contact with bacteria and germs within the skin and hair follicle. If an electrologist uses the same probe for treating several people, this can result in minor to serious health issues. These health issues can range from mild skin irritations or rashes to serious diseases. Make sure to ask if your electrologist is using a new sterile probe for each treatment, and is properly disposing of it in a medical waste container after the treatment.
Electrolysis Tweezers and Caps
Now that you have learned probes can be reused an infinite number of times on several people, the same goes for tweezers and caps. Caps are small coverings that are put over the probe to protect the probe from hurting the client. A sanitized and sterile cap and tweezers should be used for every treatment. This is to benefit your health and well-being. Have you ever been to a nail salon and contracted a fungus or rash from unsanitary tools? Or have you ever borrowed someone's tweezers for your eyebrows and gotten little bumps under your brow after? These conditions are unpleasant and unnecessary. Electrolysis can be performed on almost all parts of the body. I know I would never want someone to treat my face with the same tweezers and cap they had just treated another person's bikini area without proper sanitization and sterilization! Ask what methods your electrologist uses when it comes cleaning their instruments.
Electrolysis By Emily – FDA Approved Sanitizing and Sterilizing
At Limoges Electrolysis in New York City, we provide a clean and professional environment where proper sanitizing and sterilizing adhere to FDA approval.  Only new sterile probes are used once for each treatment and properly disposed of in a medical waste container after each treatment. If there are multiple parts of the body being treated in one session, we discard the probe and use a new sterile one if applicable.
We also have a medical grade autoclave which is FDA registered. The autoclave uses dry heat to sterilize the caps and the tweezers. Many electrologists in New York City do not own an autoclave machine. Instead, they use other methods and machines that are not medical grade or approved by the FDA to clean their supplies. To learn more about dry heat sterilization please click here to read about our dry heat sterilizer.

In addition, at Limoges Electrolysis, we use disposable gloves and masks for each treatment. Our office and equipment is cleaned and sanitized every day. We pride ourselves on providing the best quality treatment to our clientele. Please contact us or visit www.Electrolysis-NYC.com for more information.
See the difference today at Limoges Electrolysis !